Persebaran agens hayati Neochetina spp. (Coleoptera: Curculionidae) di jawa barat dan DKI jakarta
Keywords:
Neochetina spp., waterhyacinth, biological control, invasivesp
Abstract
The establishment of Neochetina spp. as biocontrol agent of waterhyacinth are related to the weevil's ability to disperse and to increase their population sizes. The objective of this research was to study the distribution and abundance of Neochetina spp. at several areas in West Java and DKI Jakarta. The field research was done in several freshwater ecosystem infested by waterhyacinth, including Cibinong and Lido lakes in Bogor, irigation canal in Karawang, Muara Angke Sanctuary in North Jakarta, and Citarum Hulu river in Purwakarta, during April to August 2004. Coordinate and elevation of the research sites where N. eichhorniae and N. bruchi found were reported, while their abundances were observed by direct hand-collection technique. The results of the research showed that N. eichhorniae was widely distributed and established in most sampling sites, except in Karawang, whereas N. bruchi was not found in any sampling sites. Our observations also indicated that N. eichhorniae was distributed passively so that the weevil couldn't colonize isolated habitats or locations.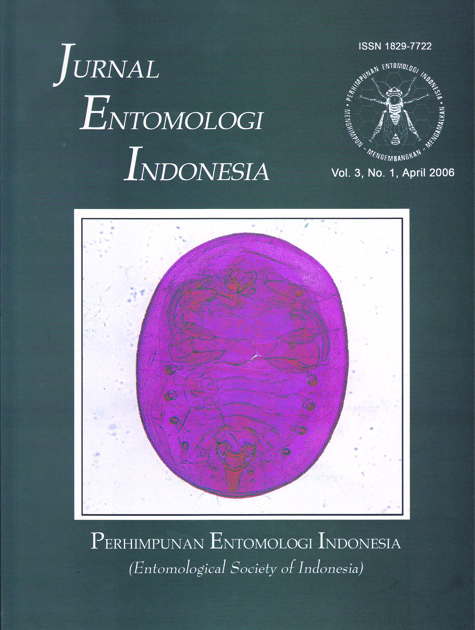 Downloads
How to Cite
Sapdi, S., Buchori, D., Kartosuwondo, U., Tjitrosemito, S., & Sahari, B. (2017). Persebaran agens hayati Neochetina spp. (Coleoptera: Curculionidae) di jawa barat dan DKI jakarta. Jurnal Entomologi Indonesia, 3(1), 20. https://doi.org/10.5994/jei.3.1.20
License
Authors who publish with this journal agree to the following terms:
Authors retain copyright and grant the journal right of first publication with the work simultaneously licensed under a Creative Commons Attribution License that allows others to share the work with an acknowledgement of the work's authorship and initial publication in this journal.
Authors are able to enter into separate, additional contractual arrangements for the non-exclusive distribution of the journal's published version of the work (e.g., post it to an institutional repository or publish it in a book), with an acknowledgement of its initial publication in this journal.
Authors are permitted and encouraged to post their work online (e.g., in institutional repositories or on their website) prior to and during the submission process, as it can lead to productive exchanges, as well as earlier and greater citation of published work (See The Effect of Open Access).