Pengaruh cahaya artifisial di malam hari (artificial light at night-ALAN) terhadap serangga
Keywords:
invertebrates, light pollution, nocturnal
Abstract
Insect populations have declined significantly over the last few decades. Anthropogenic factors such as deforestation, land-use change, climate change, and pesticides play a major role in insect population decline. In addition to those factors, insects also face challenges from air, noise, and light pollution derived from human activities. Light pollution in the form of artificial light at night (ALAN) is generally known to be one of the factors driving insect declines but it has rarely been studied in Indonesia. In this literature review, we collected empirical evidence from previous studies to provide a comprehensive report on the impact of ALAN on insects. Most studies demonstrate a decline in insect populations in areas with high ALAN intensity, such as urban areas. Furthermore, ALAN was reported to disrupt insect visual systems, which results in disturbances to predator avoidance and foraging movements. Until now, most work related to artificial light in Indonesia have focused on light as a method of controlling pests. Hence, studies related to artificial light as a pollutant are urgently needed to increase our understanding of the effects of ALAN on the survival of organisms, especially insects. Future research must seek suitable solutions to create environmentally and ecologically friendly conditions for various organisms, especially those susceptible to the negative effects of light, such as insects.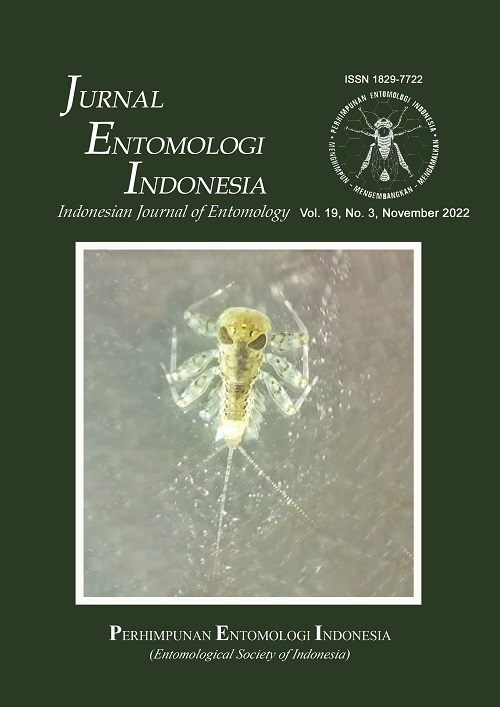 Downloads
How to Cite
Mawan, A., Nazarreta, R. ., Kasmiatun, Istiaji, B. ., Hidayat, P., & Buchori, D. . (2023). Pengaruh cahaya artifisial di malam hari (artificial light at night-ALAN) terhadap serangga. Jurnal Entomologi Indonesia, 19(3), 255. https://doi.org/10.5994/jei.19.3.255
License
Copyright (c) 2022 Amanda Mawan, Rizky Nazarreta, Kasmiatun, Bonjok Istiaji, Purnama Hidayat, Damayanti Buchori
This work is licensed under a Creative Commons Attribution 4.0 International License.
Authors who publish with this journal agree to the following terms:
Authors retain copyright and grant the journal right of first publication with the work simultaneously licensed under a Creative Commons Attribution License that allows others to share the work with an acknowledgement of the work's authorship and initial publication in this journal.
Authors are able to enter into separate, additional contractual arrangements for the non-exclusive distribution of the journal's published version of the work (e.g., post it to an institutional repository or publish it in a book), with an acknowledgement of its initial publication in this journal.
Authors are permitted and encouraged to post their work online (e.g., in institutional repositories or on their website) prior to and during the submission process, as it can lead to productive exchanges, as well as earlier and greater citation of published work (See The Effect of Open Access).