Keanekaragaman dan kelimpahan kumbang cerambycid (Coleoptera: Cerambycidae) di Cagar Alam Pangandaran, Jawa Barat
Keywords:
Artocarpus, cerambycid, diversity, Ficus, Pangandaran
Abstract
The community structure of cerambycid beetles in an area is closely related to the heterogeneity of woody plants. Pangandaran Nature Reserve is forest located in the peninsula and has unique fauna and flora communities. The study aims to analyze the diversity and abundance of cerambycid beetles in the Pangandaran Nature Reserve. To attract the cerambycid beetles, we used branches of jackfruit (Artocarpus heterophyllus) and fig (Ficus septica) as traps. Traps were tied in a tree or log about 1.5 m from the ground in the Nature Recreation Park and the Nature Reserve, each area with 2 locations. Collection of beetles were carried out by beating method. A total of 574 individuals cerambycid beetles were found, belonging to 1 subfamily, 8 tribes, 12 genera, and 20 species. The highest species diversity of beetles was found in Nature Recreation Park-1 (H' = 2.09, E = 0.74), followed by Nature Reserve-2 (H' = 1.75, E = 0.68), Nature Recreation Park-2 (H' = 1.70, E = 0.71), and Nature Reserve-1 (H' = 1.52, E = 0.69). Four species of beetles found in high abundance were Sybra binotata Gahan (229 individuals), Nyctimenius javanus (74 individuals), Atimura bacillina Pascoe (67 individuals), and Acalolepta rusticatrix (Fabricius) (45 individuals). The number of individual beetles collected in Artocarpus (342 individuals) was higher than Ficus traps (232 individuals). This study identified seven endemic beetles of Java, i.e., Myagrus javanicus Breuning, Cacia curta Breuning, Sybra obliquefasciata Breuning, Sybra fuscotriangularis Breuning, Pterolophia triangularis Breuning, N. javanus, and Exocentrus artocarpi Fisher.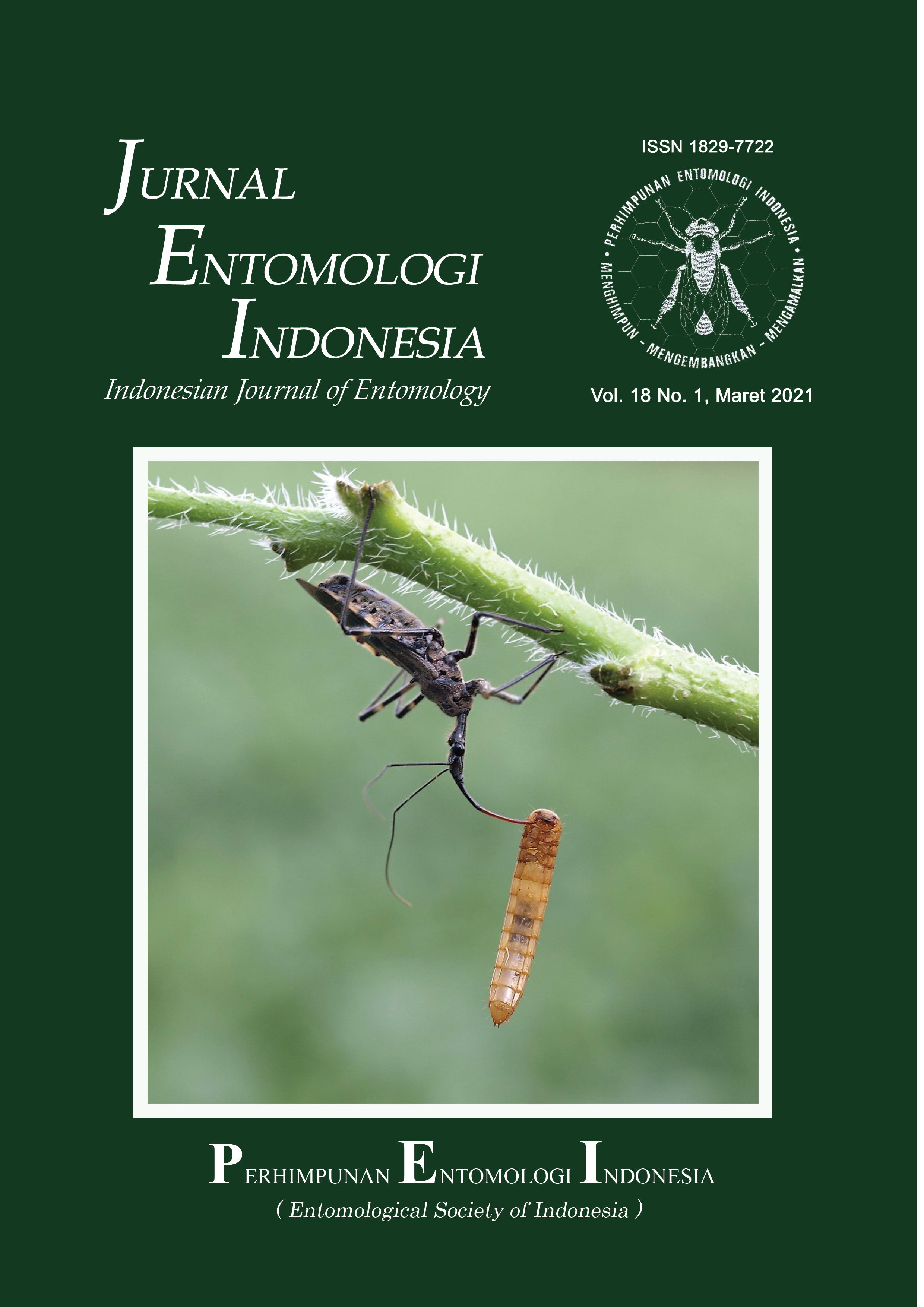 Downloads
How to Cite
Ariska, S. D. ., Atmowidi, T., & Noerdjito, W. A. . (2021). Keanekaragaman dan kelimpahan kumbang cerambycid (Coleoptera: Cerambycidae) di Cagar Alam Pangandaran, Jawa Barat. Jurnal Entomologi Indonesia, 18(1), 23. https://doi.org/10.5994/jei.18.1.23
License
Authors who publish with this journal agree to the following terms:
Authors retain copyright and grant the journal right of first publication with the work simultaneously licensed under a Creative Commons Attribution License that allows others to share the work with an acknowledgement of the work's authorship and initial publication in this journal.
Authors are able to enter into separate, additional contractual arrangements for the non-exclusive distribution of the journal's published version of the work (e.g., post it to an institutional repository or publish it in a book), with an acknowledgement of its initial publication in this journal.
Authors are permitted and encouraged to post their work online (e.g., in institutional repositories or on their website) prior to and during the submission process, as it can lead to productive exchanges, as well as earlier and greater citation of published work (See The Effect of Open Access).