Komunitas serangga hama padi rawa lebak yang ditanam dengan berbagai jarak tanam
Keywords:
generative, legowo cropping, 'tegel', vegetative
Abstract
Rice spacing can affect the species and populations of  insect pests. The closer spacing of rice are suitable for the habitats and niches of insect pests. This research was aimed to observe the community of insect pest on rice planted with various spacing regime. Field experiment was carried out on a-15 hectare rice field grown using various rice spacing: 'tegel' (25 cm x 25 cm) and  legowo cropping of  4:1, 5:1, 6:1, and 7:1. Insect pests were collected using insect nets. All the insects found at a rice season were 27 species. The dominant species at vegetative stage of rice were Oxya chinensis (Thunberg), Acrida turrita (Linnaeus), Nilaparvata lugens (Stål), Nephotettix virescens (Distant), and Cofana spectra (Distant), whereas at generative stage the dominated ones were Leptocorisa acuta (Fabricius) and Riptortus sp. The populations of N. lugens and N. virescens were not proven to be affected by rice spacing. The population of the both planthoppers were low and they did not become a key pest at fresh swamp ecosystems. The key insect pests was L. acuta and its population were  affected by the rice spacing.  The population of L. acuta was higher at rice with a more dense spacing, those were legowo cropping of  6:1, 7:1, and 'tegel' compared to legowo cropping of 4:1 and 5:1. Therefore, legowo cropping of 4:1 or 5:1 should be applied  at the fresh swamp ecosystems to decrease the insect pests population.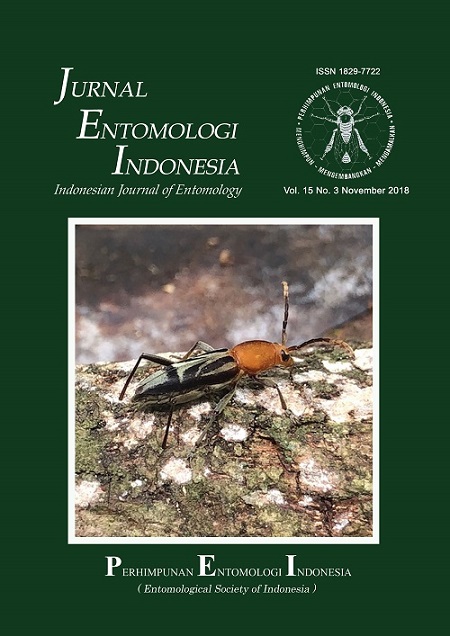 Downloads
How to Cite
Herlinda, S., Apryanti, H., Susilawati, S., & Anggraini, E. (2019). Komunitas serangga hama padi rawa lebak yang ditanam dengan berbagai jarak tanam. Jurnal Entomologi Indonesia, 15(3), 151. https://doi.org/10.5994/jei.15.3.151
License
Authors who publish with this journal agree to the following terms:
Authors retain copyright and grant the journal right of first publication with the work simultaneously licensed under a Creative Commons Attribution License that allows others to share the work with an acknowledgement of the work's authorship and initial publication in this journal.
Authors are able to enter into separate, additional contractual arrangements for the non-exclusive distribution of the journal's published version of the work (e.g., post it to an institutional repository or publish it in a book), with an acknowledgement of its initial publication in this journal.
Authors are permitted and encouraged to post their work online (e.g., in institutional repositories or on their website) prior to and during the submission process, as it can lead to productive exchanges, as well as earlier and greater citation of published work (See The Effect of Open Access).