Keanekaragaman parasitoid dan predator kutu lak (Laccifer lacca Kerr) di KPH Probolinggo Perum Perhutani Unit II, Jawa Timur
Keywords:
Aphelinidae, field, Kabuaran
Abstract
Lac insect (Laccifer lacca Kerr) (Homoptera: Kerriidae) is an insect species that attack various plant species and produce lac as a by-product. The insects produce compact and thick natural resin and attached to the branch commonly called shellac. Branch lac is a natural resin from the secretion process of insects named L. lacca in the form of a thick-layered lac that covering the branches of the host plant. Parasitoids and predators attack lac insect has a direct impact on the decrease in shellac productivity. The aim of the research is to determine the dynamics of parasitoid populations on lac insect, the diversity of parasitoids and predators attacking lac insect, identification parasitoids and predators that attack to lac insect, measuring parasitization level in BKPH Kabuaran and Taman, KPH Probolinggo, Perum Perhutani Unit II - East Java. Samples branch lac of BKPH Kabuaran and Taman each of 200 lac branch was collected. The dominant families of parasitoids found are Aphelinidae, Encyrtidae, and Eulophidae. Predators found to consist of Family Lathridiidae (Coleoptera), Cosmopterigidae and Noctuidae (Lepidoptera), Nabidae (Hemiptera), and Chrysopidae (Neuroptera). The cumulative amount of parasitoids in the field is more high (5.900 individuals) than in warehouses (5.263 individuals). The highest increase of individual parasitoids in the field and warehouses occurred at the observation day 7th to 17th. The parasitization level of lac insect in the field and warehouse was high i.e., 93% and 96% respectively. It can be concluded that lac insect from both the field and werehouse are alike parasitized.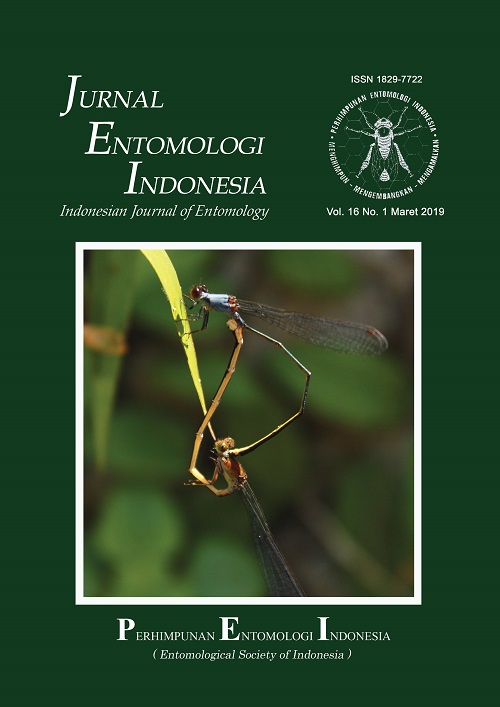 Downloads
How to Cite
Suheri, M., & Haneda, N. F. (2019). Keanekaragaman parasitoid dan predator kutu lak (Laccifer lacca Kerr) di KPH Probolinggo Perum Perhutani Unit II, Jawa Timur. Jurnal Entomologi Indonesia, 16(1), 52. https://doi.org/10.5994/jei.16.1.52
License
Authors who publish with this journal agree to the following terms:
Authors retain copyright and grant the journal right of first publication with the work simultaneously licensed under a Creative Commons Attribution License that allows others to share the work with an acknowledgement of the work's authorship and initial publication in this journal.
Authors are able to enter into separate, additional contractual arrangements for the non-exclusive distribution of the journal's published version of the work (e.g., post it to an institutional repository or publish it in a book), with an acknowledgement of its initial publication in this journal.
Authors are permitted and encouraged to post their work online (e.g., in institutional repositories or on their website) prior to and during the submission process, as it can lead to productive exchanges, as well as earlier and greater citation of published work (See The Effect of Open Access).