Resistensi populasai hama bawang merah Spodoptera exigua (Lepidoptera: Noctuidae) terhadap klorfluazuron
Keywords:
Resistance, Spodoptera exigua, Chlorfluazuron
Abstract
Resistance of Onion Pest Spodoptera exigua (Lepidoptera: Noctuidae) Populations to Chlorfluazuron. The research was conducted from August 2001 until April 2002 in the Kalitiro Agriculture Training and Development Research Station, Gadjah Mada University. The objective of research was to determine the resistance level of Spodoptera exigua populations collected from the district of Sanden, Kretek, Wates, Temon, Panjatan, Wonosari, Panggang and Playen (all are in Yogyakarta Province) to chlorfluazuron insecticide. Research was conducted by dipping artificial diet about 30 seconds in insecticide solution and there are used test two hours after they were air dried. Based on the preliminary test, different concentrations were tested to determine the toxicity of the insecticide to each population. Third instar larvae (five days old) of the first generation were used in bioassays. Each larvae with its artificial diet was placed in a plastic cup (diameter 3,5 cm). Larval mortality was recorded at 72 hours after exposure. Data was analyzed using probit analysis to determine LC50 values. The result showed that the LC50 values of chlorfluazuron againsts eight population of S. exigua at 72 hours after exposure varied from 16,10 ppm (Panggang) to 84,76 ppm (Panjatan). The results suggested that all populations from Panggang, Playen, Kretek, Sanden, Wates, Wonosari and Temon were still susceptible to chlorfluazuron. Population from Panjatan indicated to be resistant to chlorfluazuron.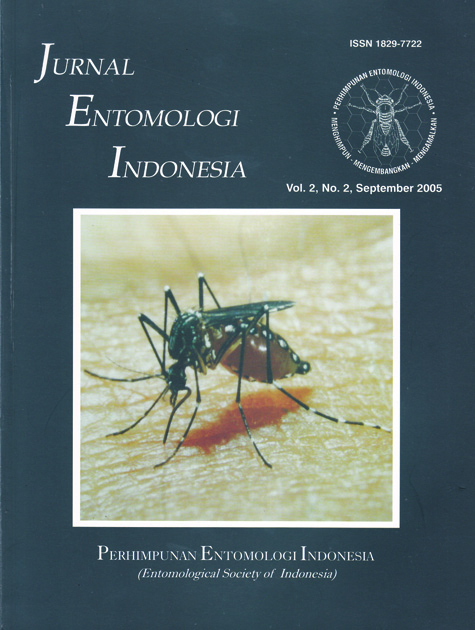 Downloads
How to Cite
Negara, A. (2017). Resistensi populasai hama bawang merah Spodoptera exigua (Lepidoptera: Noctuidae) terhadap klorfluazuron. Jurnal Entomologi Indonesia, 2(2), 1. https://doi.org/10.5994/jei.2.2.1
License
Authors who publish with this journal agree to the following terms:
Authors retain copyright and grant the journal right of first publication with the work simultaneously licensed under a Creative Commons Attribution License that allows others to share the work with an acknowledgement of the work's authorship and initial publication in this journal.
Authors are able to enter into separate, additional contractual arrangements for the non-exclusive distribution of the journal's published version of the work (e.g., post it to an institutional repository or publish it in a book), with an acknowledgement of its initial publication in this journal.
Authors are permitted and encouraged to post their work online (e.g., in institutional repositories or on their website) prior to and during the submission process, as it can lead to productive exchanges, as well as earlier and greater citation of published work (See The Effect of Open Access).