Perubahan morfologi larva nyamuk akibat pemberian larvasida bakteri kitinolitik
Keywords:
Aedes aegypti L. larvae, Culex spp., chitinolitic bacteria
Abstract
The aim of this research is to evaluate the change of Aedes aegypti L. and Culex spp. larvae morphology effected by chitinolitic bacteria as larvacide. This research was conducted in Microbiology Laboratory, Faculty of Math and Natural Science, University of Syiah Kuala. The sample was taken from several areas in Banda Aceh and Aceh Besar. The isolation was accomplished by plating 1 ml of sample water on chitin agar medium and incubating for 48–72 hours in 30 °C temperature. In the experimental method, three concentrations of chitinolitic bacteria (0.5, 1.0, and 1.5 ml) in 7 days observation were used as a treatment. The research resulted in 6 isolates having the potential to be developed firther as chitinolitic bacteria. The result shows that chitinolitic bacteria degrades exosceleton of second instar larvae of Aedes aegypti and Culex spp. Degradation of exoskeleton started on the 4th days and occurred at the thorax region. All exoskeleton from both species are completely broken on day six.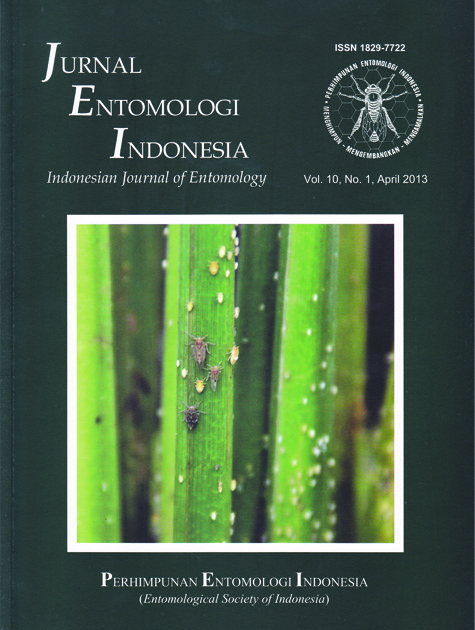 Downloads
How to Cite
Yasmin, Y., & Fitri, L. (2015). Perubahan morfologi larva nyamuk akibat pemberian larvasida bakteri kitinolitik. Jurnal Entomologi Indonesia, 10(1), 18. https://doi.org/10.5994/jei.10.1.18
License
Authors who publish with this journal agree to the following terms:
Authors retain copyright and grant the journal right of first publication with the work simultaneously licensed under a Creative Commons Attribution License that allows others to share the work with an acknowledgement of the work's authorship and initial publication in this journal.
Authors are able to enter into separate, additional contractual arrangements for the non-exclusive distribution of the journal's published version of the work (e.g., post it to an institutional repository or publish it in a book), with an acknowledgement of its initial publication in this journal.
Authors are permitted and encouraged to post their work online (e.g., in institutional repositories or on their website) prior to and during the submission process, as it can lead to productive exchanges, as well as earlier and greater citation of published work (See The Effect of Open Access).